Saturday, December 5, 2009
  Smallest 'snowman' - National Physics Laboratory sets world record
 LONDON, UK -- Experts at the National Physics Laboratory (NPL) have created a snowman, made of two tiny tin beads usually used to calibrate electron microscope lenses, measuring just 0.01mm across , setting the world record for the Smallest 'snowman'.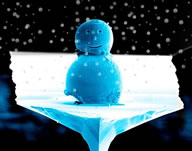 Photo: The world's smallest snowman is just one fifth of the width of a strand of hair and is made of two tiny tin beads. Photo by Dr David Cox / National Physical Laboratory
  (enlarge photo)
   While the creation, once magnified in a blue light, looks like the product of a child's imagination, it was put together using hi-tech gadgetry.

   It was assembled using tools designed to manipulate nano-particles, and welded together with tiny deposits of platinum. A focused ion beam was used to carve the eyes and smile, and to place the platinum nose.
   The the Smallest 'snowman' was created by Dr David Cox, a member of the Quantum Detection group at the laboratory.
   The National Physical Laboratory (NPL) is one of the UK's leading science facilities and research centres. It is a world-leading centre of excellence in developing and applying the most accurate measurement standards.
    The techniques used to create the the Smallest 'snowman' are employed by NPL:
   * To make and fine tune Atomic Force Microscope cantilevers for measuring surface topography.
   * To manufacture nano scale SQUIDs (Superconducting Quantum Interference Devices) for a wide range of future metrological applications including spintronics, single particle detection, NEMS and quantum information processing.
    * To measure magnetic properties of very small magnetic systems using quantum hall probes
    This hardly represents the craziest science taking place on a small scale. Harvard University has used programmed DNA to create little gears, tubes and wireframe balls. Columbia University also created self-assembling nanogears for those future hordes of tiny robots. 
   Related world records:
    Most Santas skating in a Conga Line-Warwick Castle sets world record
  Most expensive Christmas bauble-Hallmark Jewellers sets world record
  Biggest fireworks show on the barge-Fireworks do Brasil sets world record
  Biggest New Year Party-world record set by Rio de Janeiro
 
   Largest Santa Claus ice sculpture-world record set by Chinese sculptors
  Tallest sand sculpture of Santa Claus-world record set by Sudarsan Patnaik
   Largest winter footwear-world record set by Tsar-Valenok
   Longest letter to Santa Claus-world record set by the Romanian Post
   Tallest snowman-world record set by Bethel residents    
   Saturday, December 5, 2009